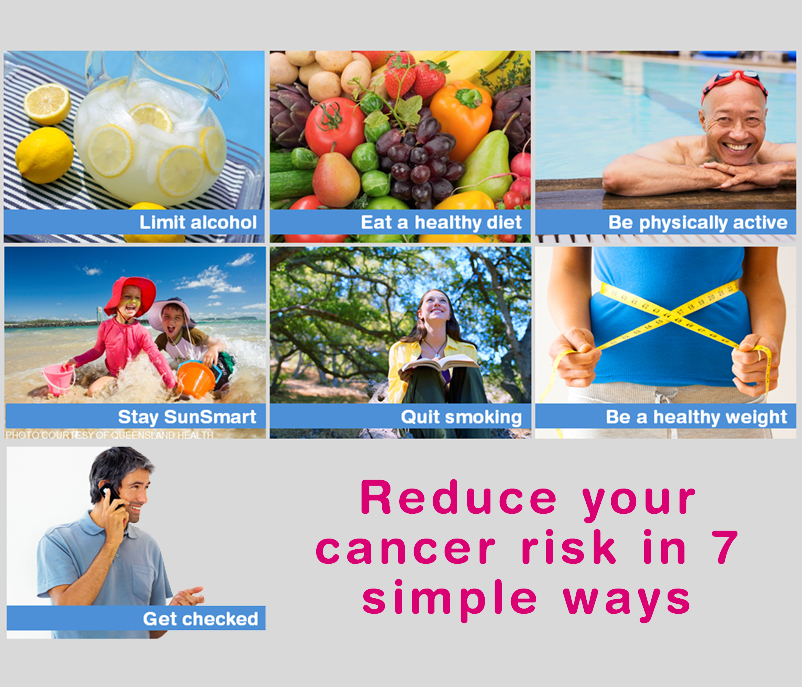 Reduce your cancer risk
There are some simple steps that you can take to lower your risk of cancer:

Quit Smoking
Smoking is a known carcinogen that increases your risk of many cancers, including cervical cancer and cancer of the vulva. There are immediate health benefits as soon as you quit smoking. Contact the National Quitline: 13 QUIT (13 7848).
Get Checked


Have a Pap smear every two years from the age of 18, or within one to two years of becoming sexually active.

Mammograms, which look for early breast cancers in women without symptoms, are most effective in 50-69 year-olds.
Contact the Cancer Council Helpline 13 11 20 to learn more.
Stay SunSmart


Reduce your risk of skin cancer and sun damage by using a combination of these five steps: Slip, Slop, Slap, Seek (shade) and Slide (on sunglasses).
Be physically active
Try and be active every day!

Just 30 minutes of moderate exercise daily improves your health and 60 minutes can help to reduce your risk of developing some cancers.
Limit alcohol
Alcohol is a significant risk factor for some cancers, including breast cancer
Be a healthy weight
You can reduce your risk of cancer by enjoying a healthy diet, being physically active every day and maintaining a healthy body weight
Eat a healthy diet
Choose a balanced diet with plenty of wholegrains, fruit and veg. A moderate amount of lean red meat is fine, but limit or avoid processed meat, salty, fatty and sugary food and drink